I really enjoy learning, so naturally I'm a big fan of the library. The kids that I'm chasing off my lawn these days think that Google invented knowledge, but there are some great and underused resources available through Hennepin County Library. (And if you think about it, we're lucky to have libraries at all. Can you imagine the outcry from book publishers if the concept of a library was new? "Wait, you're going to take my book, and loan it out to people…FOR FREE?!?")
A complete list of online library resources is available here, but I'll highlight a few particularly fun and useful tools.
Lynda.com has been doing software tutorials for years, but they were typically expensive to purchase. Thanks to your library card, access is free. Lynda's bread and butter seems to be tutorials for popular software, and with any tutorial the instruction quality depends on the instructor. It's still a more reliable and professional resource than watching YouTube videos, especially if you like learning via instructional video. I personally think videos are a great way to learn software suites, especially if you have dual monitors, as you can have both the software and the instructional going at the same time.
Through the library, you can access the New York Times archives all the way back to 1857. I love digging through historical newspapers and that's not always possible online, especially if you want to read anything published after 1922 (which is the last year that copyrighted works entered the public domain, greatly reducing access to these materials).
If you're more locally-minded, you can get the full images of the Minneapolis Tribune from 1867 to 1922 thanks to the Minnesota Historical Society (no library card needed). It's searchable too! If you want anything between 1923 and 1986, you'll have to go and plop yourself in front of some microfiche, which of course is not searchable. If you're wondering, copyrighted works from 1923 will enter public domain in 2019, unless the Copyright Term Extension Act is extended again (which I expect will happen). After all, who would bother to write articles or produce movies if their great-great grandchildren won't be able to profit from them 95 years down the road?
Rosetta Stone Advantage offers self-paced language lessons. Like Lynda's materials listed above, these used to cost a significant amount of money, but are now available for free. (Companies like Duolingo also offer free online language lessons if you're interested. The more options, the better.)
Zinio offers access to magazines that can be downloaded and stored on your computer indefinitely (DRM-free). Consumer Reports, Cosmo, Foreign Policy, The Economist, the New Yorker, and more are all available. Many of these magazines put their articles online but behind a paywall, so this is a great way to get around that restriction and get access to some of those stories you might be missing. The back issue archives seem to be restricted to the last few months, depending upon the magazine (which is awful because I wanted to read some 1990s-era National Enquirer, but alas).
Social Explorer offers census data and data visualization tools. This tool is a little overwhelming at first due to the sheer amount of data available, but the data is organized well. Really a great tool and wonderful use of library resources to provide access to it.
SAMS Photofact Online offers technical schematics and repair information for electronic parts.
Posters of World War II. Searchable by subject.
Minneapolis High School Yearbooks. Again, only up until 1922, but there are some hidden gems within: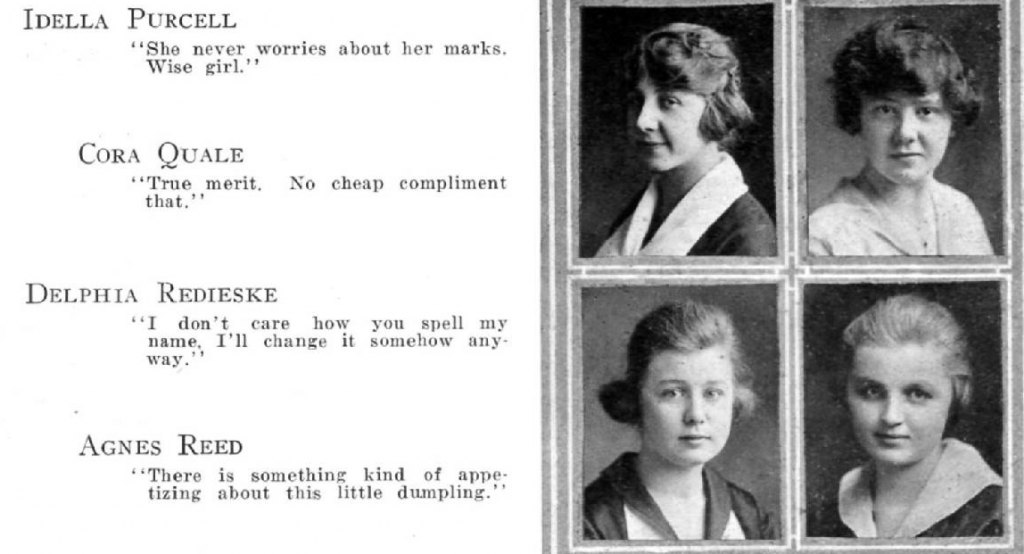 I really could do an entire post on these yearbooks, honestly.
JSTOR. Mostly academic journals, but hard to find otherwise. EBSCOhost is also available, which is similar.
There are many more resources available that I won't list, including quite a few for middle and high school students, and some that are only available on-premises at a library. Browse their online resources you'll probably be surprised at what's out there!